Biography of Sir Nicholas Winton
After four years of research and writing, my father's biography was published in mid-May 2014 to coincide with his 105th birthday! I was proud to give him the first copy and hear his response:
"I have discovered things from reading this book that I never knew about my own family, as well as rediscovering episodes long forgotten. I had questions myself about certain incidents in my past and I have found the answers here. It's strange to realise that Barbara knows more about my life now than I do."
It was a great voyage of discovery for me and I was privileged to have had access to all Nicky's papers and photos which he kept throughout his life, as well as his own recollections and those of his friends, family and colleagues. I hope that those who read it, find the stories therein as fascinating as I did.
Barbara Winton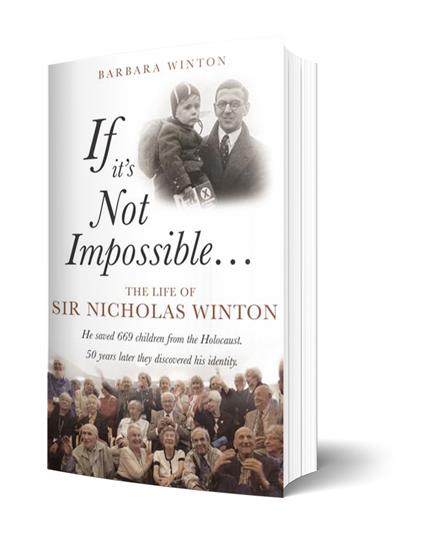 Book description;
There are around 6000 people in the world today who owe their lives to Nicholas Winton. They are the descendants of a group of refugee children rescued by him from the Nazi threat in 1939. Some of them know of his existence and the part he played in their history, many others do not. It was a short event in his life but a critical one for those whose lives were saved. For him that intervention was over in a flash and other adventures supplanted it. Only much later did this episode re-emerge in his life and ever since has brought him visitors from all over the world anxious to learn his story.
This book lays out that story in detail, exploring the motivation and early experiences that led to him acting to save young lives, while others looked the other way. His motto, "If something is not impossible, then there must be a way to do it" led him to follow his own convictions and undertake an operation others had dismissed as unnecessary or too difficult. His life thereafter was full of exploits stimulated by similar motivation which, though not so consequential, remain testimony to his character.
If something is not impossible, then there must be a way to do it
But what was his motivation? How had his life and background led to him being ready, willing and able to conduct a successful rescue operation of 669 children from Czechoslovakia at the age of 29? His daughter has painstakingly sifted through her father's papers and talked to family and friends to construct a detailed account of his whole life. It explores the influences on his character as well as the historical events he was caught up in. Taken from his historical letters and writings, Winton's own words are introduced to convey the atmosphere of many of his diverse experiences.
"A delightful book about a wonderful man. Those of us who came on a Kindertransport from Prague and owe our lives to Nicky will be so grateful to Barbara for writing something so special." Lord Alfred Dubs, ex-Labour Minister and 'rescued child'
"There are some people that just stand out in history. Sir Nicholas Winton is one of them…. The story in these pages is not one that inspires observation, it is one that demands action… It is, indeed, a reminder that we can all – regardless of our past or present – make an impactful difference". From the Foreword by Dr Stephen D Smith, Executive Director, USC Shoah Foundation, UNESCO Chair on Genocide Education
The book is available from Troubador Books and the ebook is available at Amazon.
Paperback: Amazon.com   Amazon.co.uk
Ebook:  Amazon.com   Amazon.co.uk