Places of Interest and Memorials
---
UK
Memorial Service
Held on the 19th May 2016 at the Guildhall, London.
Our thanks to all who joined us to celebrate Nicky's life.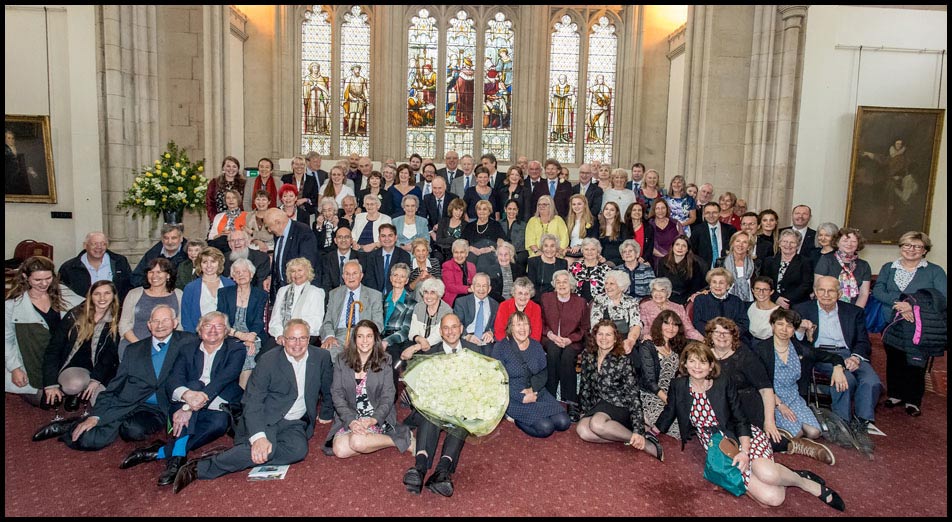 Those at the memorial who owe their lives to Nicholas Winton.
Celebration concert

The Memorial Concert for Nicholas Winton held on 20 th May 2016 at St John's, Smith Square, London, with music by friends and descendants of his "children".
All funds donated were given to charities supporting Syrian refugee children.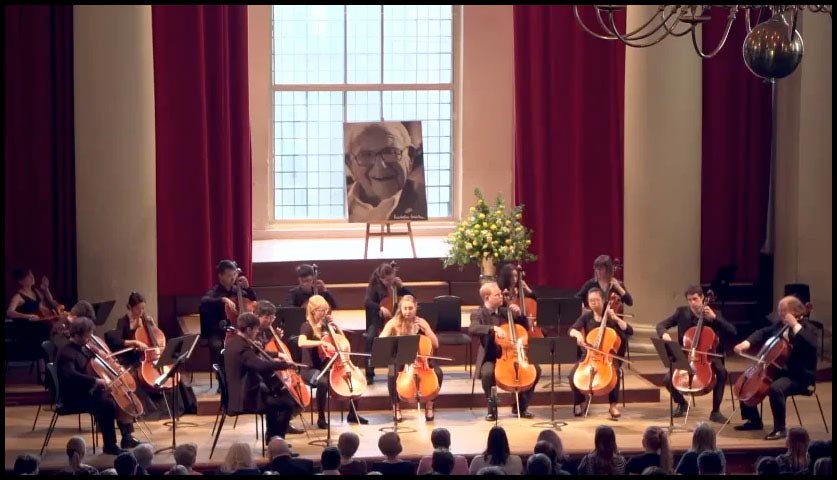 Alexander Baillie and Birmingham Cello Students

Maidenhead, Berkshire
His home town for 65 years until his death in 2015.
Sir Nicholas' ashes are buried alongside his wife Grete's and youngest son, Robin, in Braywick cemetery, Braywick Road, Maidenhead SL6 1DH. As Robin died and was buried there in 1962, the grave is in the childrens section of the cemetery.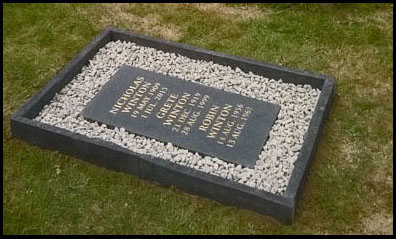 Grave of Nicky, Grete and Robin
Sir Nicholas Winton Memorial Garden is in the centre of Oaken Grove Park, Courthouse Road, Maidenhead SL6 6EU. Opened in July 2017 by the local MP, Prime Minister Theresa May.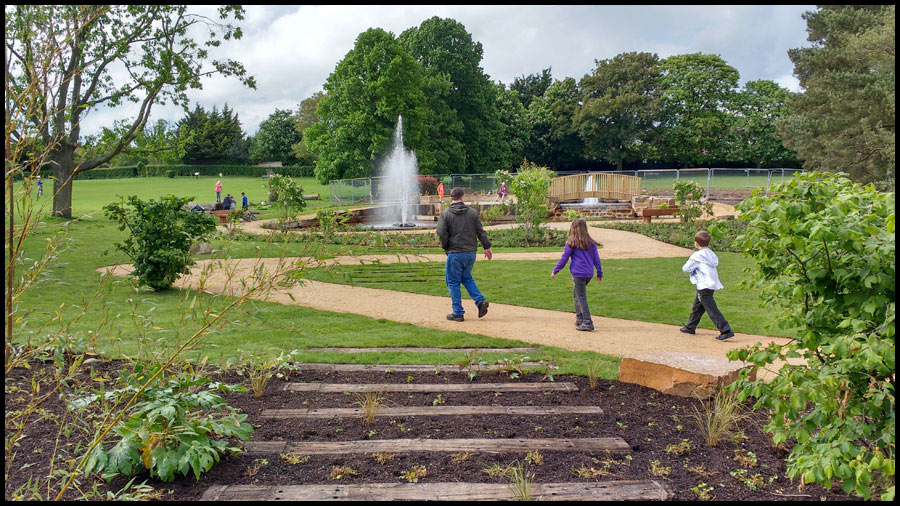 The Garden represents the Children's journey to the UK by train and over water.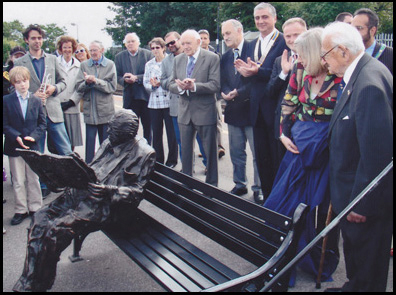 A statue of Sir Nicholas, created by sculptor Lydia Karpinski, his long -time neighbour, is on Platform 3 of Maidenhead Railway Station.
There will be small exhibitions about Sir Nicholas' life intermittently at Maidenhead Library and eventually a permanent exhibition in the new Heritage centre after remodelling of the Civic area in central Maidenhead.
London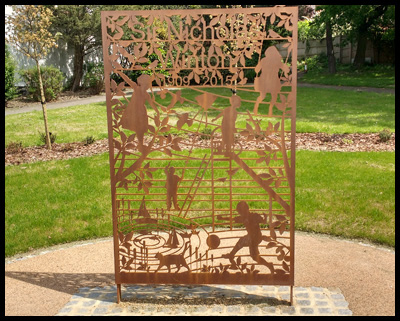 A Memorial screen and small garden are located in Princes Park, 5 Oakfields Rd, London NW11 0JA.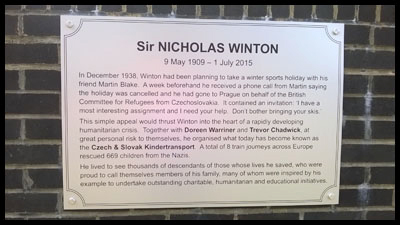 A plaque on the Memorial wall at Hoop Lane Jewish cemetery, Golders Green, London NW11 7NJ,alongside plaques to other non Jewish rescuers.
Liverpool Street station, London EC2M 7QH has two sets of statues dedicated to the Kindertransport, the first in Hope Square by sculptor Frank Meisler, himself a Kindertransport child, and the second on the lower floor by the tube entrance by Venezuelan sculptor Flor Kent. These commemorate the whole Kindertransport and not any specific rescuer but are listed here as they may be of interest.
---
CZECH REPUBLIC
Prague
There is a statue of Sir Nicholas and two Kindertransport children on Platform 1 at the main railway station, Prague (Praha hlavní nádraží) created by sculptor Flor Kent. This was the station where the Czechoslovak Kindertransports left for Britain in 1939. At that time it was known as Wilson Station.
Grand Hotel Europa, Wenceslas Square, (Václavské náměstí) has a plaque dedicated to Sir Nicholas on the wall of its ground floor café. This was the hotel where he stayed in January 1939 while instigating work on the Kindertransport.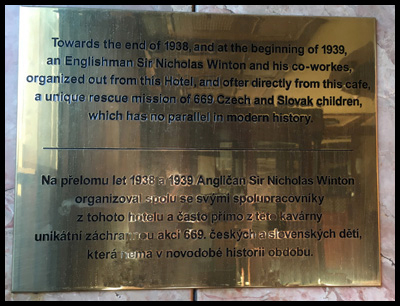 Spring of Sir Nicholas Winton, within the Orchard of the Children saved from the Holocaust, in the Strahov garden on Petrin Hill, Prague.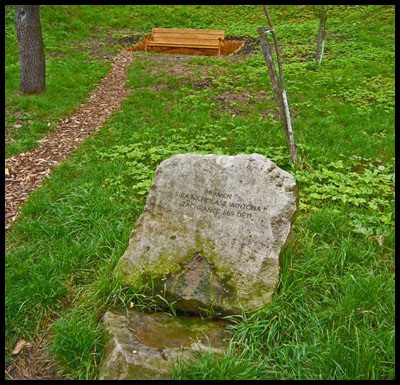 Prague Botanical Gardens: Path of Personalities.
Link to: Prague Monitor Article
---
HUNGARY
Memorial stone and stained glass window at the Great Synagogue, Dohany Street, Budapest.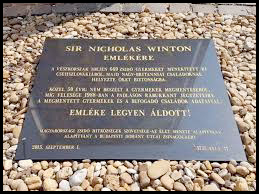 ---
USA
Illinois Holocaust museum 9603 Woods Dr, Skokie, IL 60077 – Rotary Peace Hall of Fame.
Link to: Rotary Page of Sir Nicholas

Adas Israel Congregation. Garden of the Righteous with Plaque for Sir Nicholas Winton. Washington DC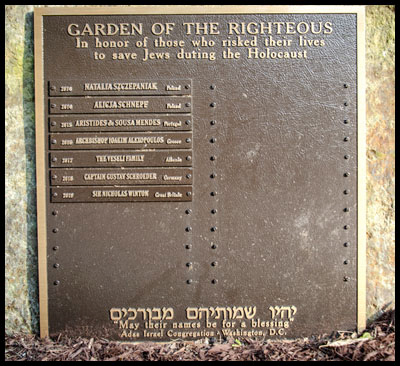 ---
winton train 2009
The Winton Train Re-enactment
The Winton Train departed on 1st September 2009 from Hlavni Nadrazi, Prague's main railway station carrying 170 passengers, 22 of whom were aboard the original trains leaving what was then known as Wilson Station in 1939. The re-enactment was organised by Czech Railways and used steam trains of the period from Czech Republic, Germany , Holland and the UK. It departed 70 years to the day after the final Kindertransport train which was due to leave Prague bearing 250 children to safety, was cancelled when the Germans invaded Poland. Along with the 22 Kinder, their children and grandchildren, were students who had won an international arts competition based on the Kindertransport story, called Inspiration By Goodness. Other Kinder met the train at Harwich and Liverpool St Station, where it arrived on 4th September to be welcomed, as in 1939, by Sir Nicholas.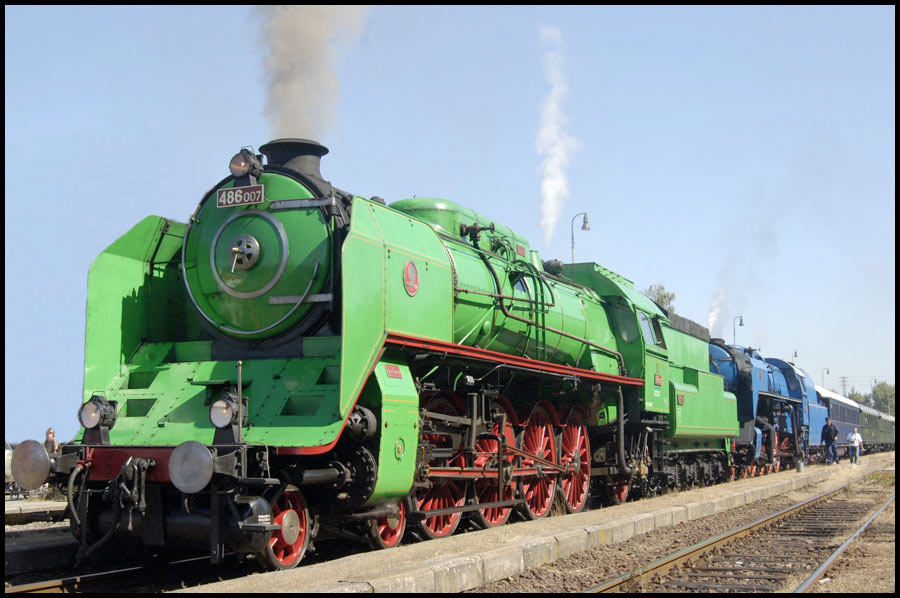 Czech Republic: Locomotives 486.007 Green Anton and 498.002 Albatross.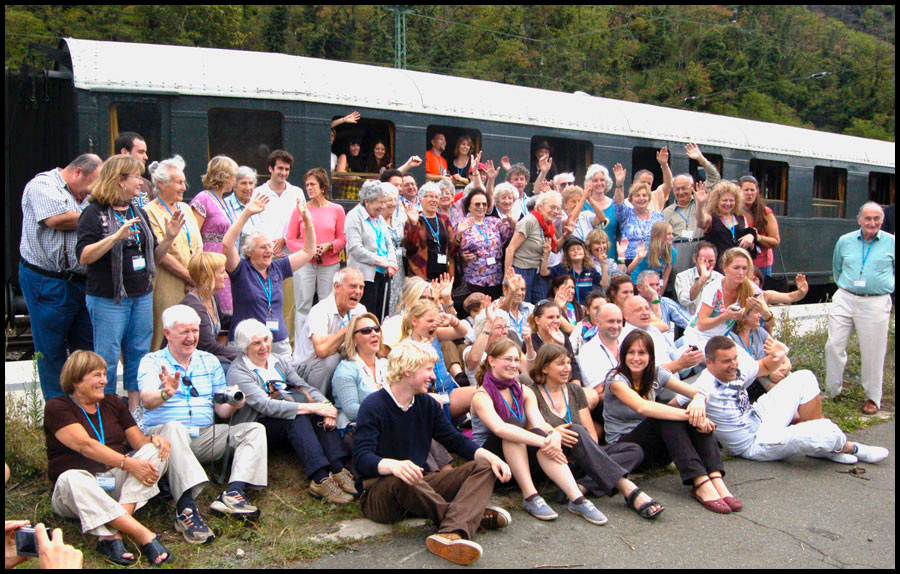 Some of the Children with second and third generations.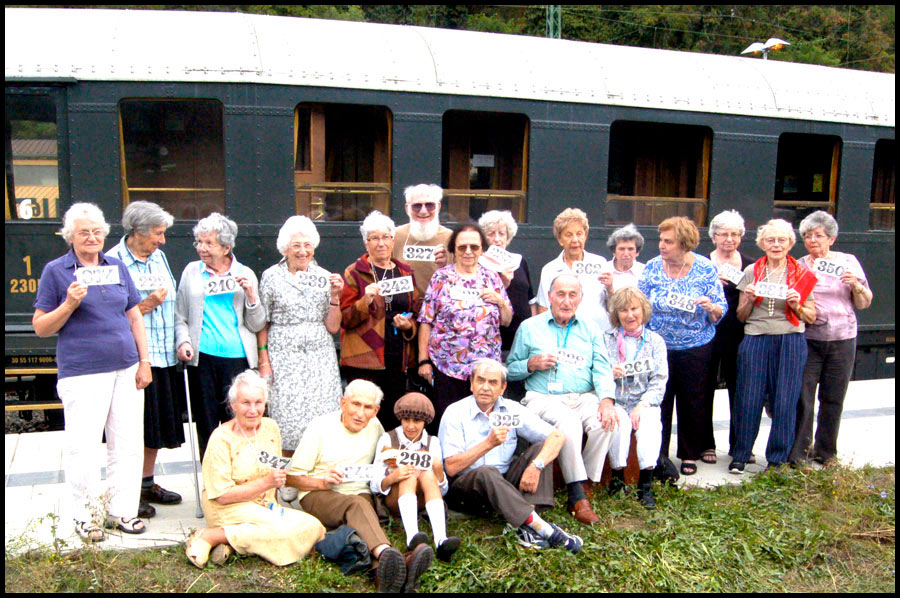 Some of the Children with identification tags